Pat Todd, Band Leader
Pat joined Tuxedo Junction in 1989 as the piano player in what was then a Dixieland Band. She took over as band leader in 1995. Pat grew up in Pittsburgh where her grandmother taught her piano. As a career she taught high school and college math, and is now active in the Guilford Rotary and the Leetes Island Garden Club. She is a member of the national board for Action to Cure Kidney Cancer.
Saxes
Dustin Kreidler
I joined Tuxedo Junction in October 2011. I was working at the Neighborhood Music School one Sunday when I met Pat. She needed a sub the next day and said to me, "Hey, do you want to come to our rehearsal and play sax?" and I said, "Sure!" I've been with the band ever since. In 2022, I moved to first alto.
I've played most genres imaginable, from jazz to ska to metal to space rock to protest folk to 80s/90s cover bands.
Any chance to play live, I'm in.
"Music is the best." – Frank Zappa
Angela Koeth
I came to the Cherry Blossom Festival four years ago and Tuxedo Junction was playing. I told Pat that I played sax, and she invited me to the band's rehearsal at Bill's. I've been in Tuxedo Junction ever since. My favorite thing about it is that the people in the band really love music. It's special because any song we play will be different every time.
Dave Arezzini
Dave Arezzini is a recent addition to the Tuxedo Junction big band. He was a music teacher in the CT public schools for 37 years. Dave moved to Guilford, CT in 2019 with his wife Lynn and family.
Dave received a bachelor of music degree at UConn and later became the university's jazz band director. He studied jazz arranging at the Eastman School of Music with Bill Dobbins. Dave orchestrated, directed and performed for numerous jazz services and musicals in CT
churches. He received two master's degrees in jazz performance at SUNY Purchase where he studied with Jon Faddis, Ralph Lalama, Javon Jackson and Todd Coolman.
Dave was a founding member of "SummerJazz" with percussionist Joe Corsello and bassist Rick Petrone. This was a jazz workshop for middle and high school musicians which also involved professional jazz musicians from NYC.
Dave is a freelance musician/teacher in the tri-state area. He has performed with Eddie Jones of the Count Basie orchestra , Elliot Zigmund, Harvey S and Richie Morales among others.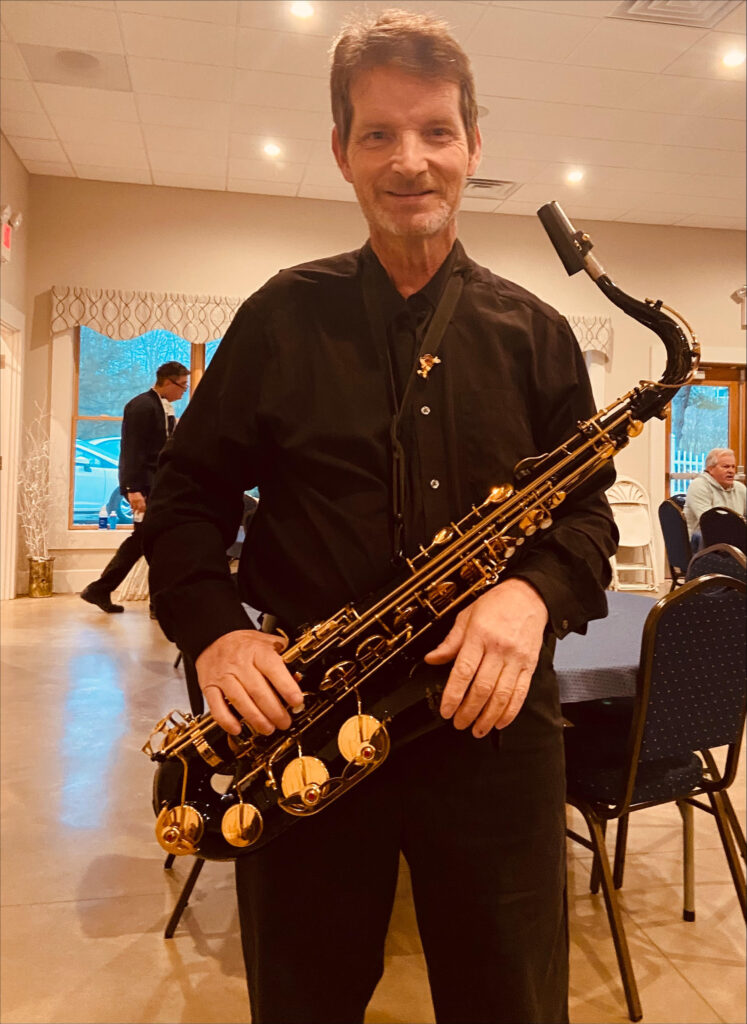 Joe Noble
Native of Maryland, I moved to Branford, CT. several years ago. One evening I was told a band called Tuxedo Junction was playing on the green and that I should really hear them. Playing music all my life, and even attending Towson University for Music I was easily drawn to this idea. After listening, and loving it.. my partner (and biggest fan), Robbin walked straight over to Pat and said, "You know Joe plays Sax and sings." Pat told me to show up the following week with a saxophone and the rest is history. There is nothing like live music. This timely sound of swing resonates with me. When I am not working full time, as a hobby, I am currently playing in a dance band that plays throughout CT, but the feeling of big band is like none other. The idea that we come to play LIVE rehearsals and site read on the spot keeps me feeling like a student again. I am full of appreciation to Pat for giving me this opportunity to work alongside seasoned, incredibly talented musicians and doing what I love best… playing sax.
Trumpets
Charlie Delinks
Charlie Delinks joined Tuxedo Junction in 2005 when he was asked to sub by Eva Cheshire, who is now his wife. He's been playing with the band regularly since 2015.
When did you start playing the trumpet?
I've been playing the trumpet since I was 10, so for over 60 years. Music is more important to me now than it was when I was younger. I was supposed to be a music major in the '60s but I never wanted to play in a marching band or in an orchestra pit. I'm 72 now, and I'm still getting better. Eva and I are husband and wife now and are in two bands together – we run one band ourselves. We're very lucky to share that interest, to have that bond – music.
Do you prefer live or recorded music?
Live music. It's a living thing. You'll hear mistakes that you don't hear on a record, and you'll hear things that are excellent that have never been done before such as ad libs and solos. Sometimes you hear what has never been played before. It's been made up right there, on the spot. That kind of chemistry doesn't happen on a recording that is carefully edited.
What do you like most about playing with the band?
Tuxedo Junction is a fun band, pretty low pressure. It's a lively, friendly environment so there's no stress – everybody is happy, the audience is happy, the band's happy. It's basically like a family band: everybody knows each other, works together.
What advice do you have for someone learning a new instrument?
Don't give up when the novelty wears off a little bit. Just put in the time – you have to pay your dues, But then, all of a sudden, you're making music. Too many kids give up when the blush is off and it's become a little bit of work. When you start getting better it's more work, more practice – but it's worth it.
Eva Cheshire
I heard about Tuxedo Junction at the Essex Jazz Festival over 20 years ago, and have been in the band ever since. It's a lot of fun. It's a relaxed group of people, and everybody is here to have fun.
There are a lot of good musicians in the band. We're really lucky to have a wonderful woman who runs this band. That is part of what makes it a lot of fun, too.
Danny Moss
Danny is excited to play trumpet with the Tuxedo Junction big band! He grew up listening to the jazz greats from an early age and fell in love with Bebop when he first began to play the trumpet at age 10. Danny attended New Trier high school in Winnetka, Illinois and Oberlin College. He was ordained as a Rabbi in 2017 and currently serves Temple Beth Tikvah in Madison.
Trombones
Harvey Martin
I played the trombone in Bridgeport's Black Rock School. In Bassick High I won the Sousa Award. And while majoring in Pharmacy at UConn, I played in every band I could – concert, perp, marching, etc. When family and career took over, I stopped playing for more than 20 years. But I started playing again with Tuxedo Junction.
I have been playing with Tuxedo Junction for 15 years. My wife of 42 years, Joanne, co-sponsored the production of the band's album and when I looked at the cover, I recognized one of my co-workers, Amanda Caswell. At work the next day, I told Amanda that I play the trombone, and she invited me to the next rehearsal. Pat needed a trombonist that night, and I've been there ever since.
I love the music, the timeless genre, the big band sound. And I love the camaraderie. I was able to jump right in and play. We're not over-rehearsed – we have fun, and it all works.
There's an advantage for everyone being part of the live music scene. You get a good appreciation of the performer. There's nothing like live music.
John Beers
I started playing the trombone in the 4th grade. I was fascinated by the slide, and I had a friend who had started during the summer before. I loved playing from the start, and played throughout grade school, high school and college. I played less during law school and during the early years of starting my career and my family. I started to play on a regular basis when a friend of my father-in-law needed a substitute to play in a concert of the Bristol (CT) Symphony. I played principal in that orchestra for several years, and followed that with playing principal in the West Hartford Symphony. For the past several years, I have played principal trombone in the Farmington Valley Symphony Orchestra. I have also played principal trombone in the Danbury Brass Band for many years. I have played in several big bands over the years, prior to joining the Tuxedo Junction Band. Beyond that, I am regularly asked to play in events on the trombone, alto trombone and euphonium. As I enter retirement from my career, I look forward to devoting even more time to playing.
Anne Jurewicz
Anne started playing trombone in 4th grade. Her first choice was trumpet but her mom decided she would be a trombone player. She continued playing in school bands, orchestra and Delaware All State bands through middle and high school. After graduation she thought her musical career was over but joined the jazz band at West Virginia Wesleyan College under the direction of Dr. David Milburn. The band went on tours during spring break and a couple European tours during the summer. She feels lucky to be a part of Tuxedo Junction after meeting the great Harvey Martin at the Guilford town band last summer.
Tom Boates
Tom is a resident of Guilford and brings his 44 years as a instrumental music educator and professional trombonist to this group. Recently retired, he has, most recently, been the
Jazz Ensemble and Symphony Orchestra director and Department Chair at Guilford High school for 20 years. As a trombonist, he has performed and recorded as a member of
numerous traditional jazz bands such as the Wolverine Jazz Band, the Hot Cat Jazz Band and appeared as a guest artist with many others. With these groups he has performed throughout North America. You can also hear him every Friday night at Bill's Seafood in Westbrook CT as the leader and member of the Bill's Seafood Jazz All-Stars.
Rhythm
Dennis Amato
Drums
Dennis Amato joined Tuxedo Junction in 2016, invited to join after he had been listening to the band for about a year.
What do you like most about playing with the band?
"Music is a passion for everyone who plays an instrument. And when you see someone play, they are sharing their passion with others. Music is what unites people in love and in sorrow. The live band, the band itself, the flavor it puts on the musical piece, a lot of times you're not playing exactly like the record, sometimes it's better than the record. The atmosphere – it's like the difference between watching baseball on TV and going to see the game."
When did you start playing the drums?
"I started taking lessons as a kid from my cousin Artie. When I was 13, I wanted to give it up for football. But I didn't have the guts to tell him, so I stuck with it. When I was 15 my dad would take me to the Italian American Club in West Haven, and I started playing cha chas and mambos. I got paid $15 a night, and I was sold – I played there for 9 months and then, when I got my drivers license, started playing with other bands. I eventually started playing with a classmate in the band Bitter Sweet, and that's when I really started to play professionally."
What's your advice for someone learning a new instrument?
"Be patient, and stick with it. It takes a lot of practice, but there comes a point when you can play with your heart, and you can make a beautiful sound that all people can enjoy."
Gary Grippo
Guitar
Gary studied jazz performance & pre med at Rutgers University where he toured Eastern Europe with the jazz band & had the opportunity to play with such jazz luminaries as Louie Bellson, Gerry Mulligan & Clark Terry. He has been an integral part of the CT jazz scene for many years, leading various jazz jam sessions and jazz brunches. Currently he plays weekly at Quattros in Guilford on Sundays. He is also a jazz DJ at WNHU in New Haven.
Jeff Fuller
Bass
An integral part of the Connecticut, New York and international jazz scenes, Fuller has toured worldwide and recorded with saxophonists Lou Donaldson and Paquito D'Rivera. He has played with jazz masters from all styles and eras including such diverse artists as Dizzy Gillespie, Mose Allison, "Papa" Jo Jones, Gerry Mulligan, and Clark Terry. Fuller is one of the most sought after jazz bassists in Connecticut, and currently leads his own ensembles in many venues. In 2014, he was presented with the annual Jazz Haven Award, "For all you have done in presenting and preserving the culture and music of jazz."